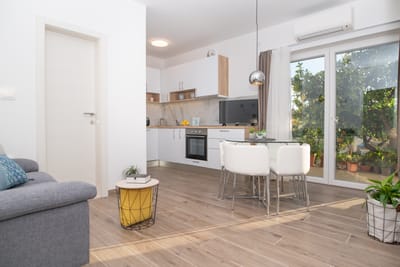 Welcome to "
Sweet Dreams
", the luxurious house located in the picturesque village of Sumpetar, near the charming town of Omiš, and home to the stunning
South apartment.

Step into this lavish apartment and be enchanted by its elegant design and comfortable furnishings. With a spacious living room, two cozy bedrooms, a modern kitchen, and a pristine bathroom, South offers everything you need for a comfortable and relaxing stay.
The living room is the perfect place to unwind after a long day of exploring the nearby attractions. Curl up on the plush sofa and watch your favorite TV show on the flat-screen TV or surf the web with our high-speed Wi-Fi.
The two bedrooms are designed with your comfort in mind, each featuring a comfortable double bed, soft linens, and ample storage space for your belongings. You'll wake up refreshed and ready to start your day after a peaceful night's sleep.
The modern kitchen is fully equipped with all the necessary appliances and utensils, allowing you to prepare delicious meals during your stay. Enjoy your meals at the stylish dining table or take them outside to the spacious balcony and savor the stunning views of the surrounding area.
Finally, the pristine bathroom features a refreshing shower and plenty of fluffy towels to pamper yourself after a day spent exploring the nearby beaches and attractions.
Whether you're here for a romantic getaway, a family vacation, or a fun-filled adventure with friends, South apartment at "Sweet Dreams" is the perfect home away from home.
Book your stay today and experience the luxurious comfort and beauty of this stunning apartment.